Know Your Options Before Choosing Flowers for Wedding Decor
Floral decoration is an imperative consideration while planning a grand marriage ceremony. As a wedding couple, you always look forward to the most stupendous décor for your special day. Being such a vital element of this auspicious ceremony, you can't neglect the fact that selection of right and ideal flowers can enhance the opulence of your venue manifold. Here are some of the top choices in stunning blooms that will bless your joyous moments with their magnificence.
Dazzling Alstroemeria:
Want an all-season bloom for your wedding day? Alstroemeria or Peruvian Lily is your answer. This beautiful flower is available throughout the year for spectacular wedding decor in Chicago or elsewhere in the United States. Though it is not fragrant but its striking pattern, freckled petals, and variety of colors make it a perfect flower for backdrop decoration. You can also prefer Alstroemeria to design charming boutonniere for male guests.
Pristine Anemone:
Having derived its name from Greek mythology, Anemone is a beautiful flower that can transform your venue remarkably. It is a spring bloom prominently available during months from November to May. If your wedding is planned in this season, never miss decorating your venue with these flowers available in striking hues of white, burgundy, purple, pink, and magenta. Select these astonishing flowers for table, reception, or pillars for an attractive wedding decor.
Attractive Amaryllis:
Trumpet-shaped Amaryllis is commonly known as bride's flower. Originating in the tropical forests of South America, it is an impressive bloom for your wedding decoration in Chicago. Despite being rare and expensive in nature, it will create a charming appeal in the arena with vibrant and alluring colors including pale yellow, white, pink, red, salmon, and pale green. It blossoms in summer and has a mild aroma that prevails in the ambiance. It is the best idea to include Amaryllis in summer wedding décor.
Traditional Bouvardia:
Bouvardia, with its inherent beauty, is best suited for traditional wedding decor. This star-shaped, delicate flower can be turned into a beautiful decoration with its leafy stem. Usually used in clusters, Bouvardias are available in a variety of colors such as white, red, pink, and peach. These blooms flourish almost throughout the year. When accompanied by stunning stephanotis, it can offer magnificent appearance to your wedding arrangements.
Enchanting Calla Lily:
Calla Lily blossoms in white, red, yellow, dark burgundy, pink, and many other varieties. At some places, it is also called as Arum Lily. This flower is available in two different types, viz. long head, and large head. It blooms throughout the year with spring being the best season for choosing this flower. Even though it is not scented, it is bestowed with long, smooth, and beautiful stem which allows using them for tall centerpieces and other heightened decorations.
Ever-lasting Camellia:
Camellia is a wonderful flower blossoming in red, pink, white, and cream colors. Its magnificent texture and mild smell allures everyone. The word Camellia means beauty and it is nothing short of prettiness. Wedding event décor is incomplete without including these gorgeous flowers in the arrangement. Its availability is ample during winters and early spring.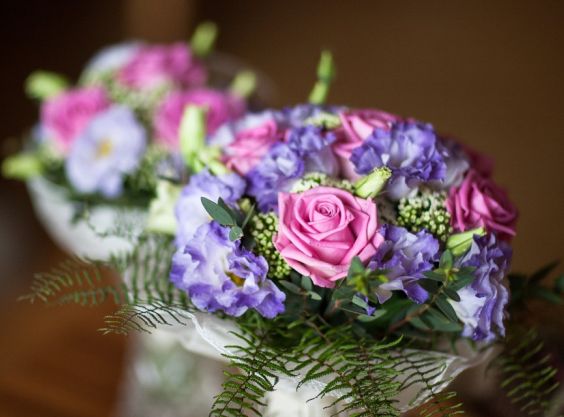 Splendid Carnation:
Carnation, known for admiration and its unfading beauty, is a long-lasting flower connoting everlasting love among the couples. When used for wedding ceremony décor, it becomes a center of attraction in the floral decoration of such royal events. It blossoms in almost every season and offers a spicy fragrance. Its striking colors are offered in the shades of dark pink, red, burgundy, white, yellow, pale pink, apricot, and other bicolor species. Choose these flowers for a wedding running for long hours.
Aromatic Chrysanthemum:
Delicate and outstanding Chrysanthemum is a beautiful flower used for wedding decorations since centuries. These flowers are cultivated year around, but late summers are the peak season. Burgundy, red, white, and yellow are common colors available in Chrysanthemum, though it is available in other varieties as well. It is known for its musky strong smell. Tucking them around aisle will certainly draw attention of guests attending your marriage.
Versatile Dahlia:
This bold and bushy flower in stunning colors can give a wonderful look to your ceremony. With its zesty smell, it is gaining momentum in elite weddings. If your event is proposed in summer, then this is the perfect floral to choose for wedding décor. It is heavily demanded in purple, red, and yellow colors, but white, orange, and pink are also adorable. Deck these flowers with scabiosa pods, globe thistle, etc. for a beautiful bouquet and background decoration.
These are the best varieties of flowers that you can choose for a stunning wedding decoration.