Reasons for Attending a Biotech Conference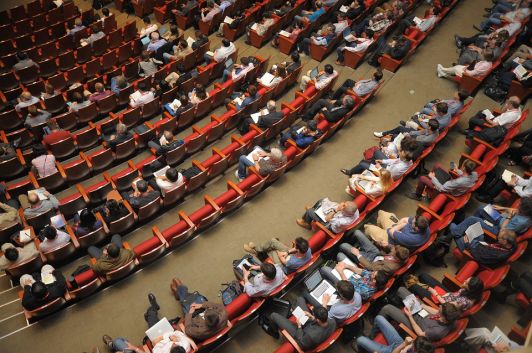 Knowledge is Power
With the continuous strides that are being made in Biotechnology, there's always something new to learn. We all have heard the cliched saying of "knowledge is power," but the truth is that the key to this power is you. And the way to do that is through learning. In today's day and age, with technology playing such a crucial part in our lives, we must be aware of everything happening around us when it comes to the field of medicine, the only constant changes. It is therefore of extreme importance to grab every opportunity there is to learn.
Technology is a Boon
The greatest scientific resources are all available to us, just a click away on the internet. So even if we cannot physically be present for a conference, fret not for there are many other alternatives. Technology has provided us with so much already, especially in the world of Biotechnology. How much more can it change soon? Well, let's say that biotechnology and healthcare tangled up with the Artificial Intelligence (AI) revolution is sure to make some noise (if it hasn't already).
Why Attending These Conferences Are Important
Connect with the experts
It goes without saying that conferences are great places to meet industry peers and other professionals in the field. Not only is this a great way to create a network, but also a chance to get fascinating insights into various topics discussed during the conference.
The Biotech conference in Boston today are mostly laced with AI- and how it can be utilized to its maximum in the world of biotech and healthcare. So, attending these conferences today would be particularly beneficial because, in a way, you are getting a sneak peek into the future of biotechnology and how AI wishes to change it for the better. If you want to keep up with the competition in the field and retain your knowledge on the subject, these conferences are essentially once-in-a-lifetime opportunities to meet the forerunners of AI and find out the way it will change the field of biotechnology for good!
Keeping up with the Latest Trends and Solutions
You may already be an expert in biotechnology, but it never hurts to improve upon or even renew your existing knowledge. Better yet, unlock a better understanding of the new challenges that have come up in the field of late and how AI handles (and ultimately, combats) these issues.
Grasp new ideas and learn about the brand-new techniques that are being used in the world of biotechnology while conversing with the biggest names in the field. These conferences are particularly beneficial for researchers in the field, as it will help you appreciate the crucial topics in biotech which you've struggled with in the past.
Opens a Platform for Discussion with Experts
It is often said that participants in biotech conferences come back with sharpened saws for brains- after all, you cannot cut a tree with a dull ax! Even if you are someone who would much rather sit alone in the privacy of your office room and listen to podcasts about the technologies, sometimes it's best to get yourself out of your comfort zone and try something different. Besides, there is data available in conferences that are otherwise unavailable on internet sources.
Work on self-growth by putting yourself out there, walk up to AI and biotech experts, and pose them with challenging questions! The least that'll come out of it is an interesting conversation. Share insights with fellow attendees, spark up debates if you need to, and go back home feeling satisfied with gaining new insight and information about biotechnology!
Cross the Barriers of Your Specific Field
This has to do with coming out of your comfort zone again; don't be afraid to learn about things outside of your professional niche! There is nothing wrong with admitting to yourself that there are still many things to learn out there. Some medical professionals have admitted that they chose to branch out into other research options after attending mind-blowing conferences in biotech!
Here's hoping we've convinced you even a little about attending biotech conferences! (Make sure to catch the Biotech Week in Boston for a conference designed for scientific minds and business leaders).