Tips to Choose the Perfect Bounce House for a Kids Party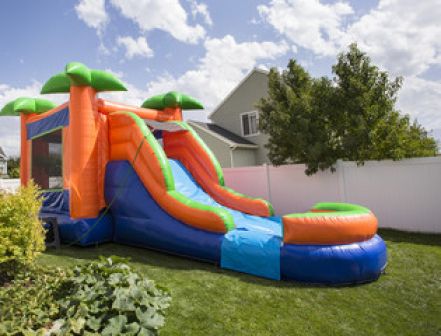 Keeping kids occupied in a party is a daunting task. They are so easily distracted and so easily amused by everything that is reachable for them. And if it is a kids' party, you definitely need some activity or games to keep them occupied and stay at one place. You can have a cotton candy machine, make them play a board game or even host outdoor games if you can manage it. However, nothing beats a bounce house! Kids just love bounce houses and so do adults. Kids love it because they can jump, hop and go crazy without any inhibitions. Adults love it because bounce houses are almost harmless and keep the children occupied.
Bounce house rentals in the US are definitely a riot at birthday parties or kids' parties. You might assume there's not much to think while buying a bounce house but think again! In this post, we will discuss a few tips you need to follow to choose the perfect bounce house rentals in Pearland or in other parts of the US for a memorable party.
1. Choose a Residential Bounce House
There are essentially two kinds of bounce houses, residential and commercial. Commercial ones are those that you see in theme parks and exhibitions, which are owned by party rental service providers. If you are throwing a party in your backyard or pool area, what you need is a residential bounce house that is small enough to fit in your backyard and is also less expensive.
2. Continuous Air Flow
This is one of the features every bounce house must have. A continuous flow of air ensures that the inflatable is not too tight with the air blocked inside and doesn't receive damages. A continuous air flow makes sure that the bounce house is inflated yet a bit flexible to avoid any damages or wear & tear. Continuous air flow will increase the durability of the bounce house and also keep the bounce level optimum.
3. Features
You don't want to buy an inflatable bounce house that won't satisfy your kids. Kids are very specific when it comes to their toys and same goes with bounce houses. Hence, ensure that the inflatable you choose has a bouncing floor, tunnels, slides, basketball hoops, obstacles, climbing walls and a water slide if possible. It won't be possible to have all of these features embedded into a single residential bounce house. However, look for the one that has most of these features.
4. Design and Theme
As mentioned above, kids are very specific about their toys and if there is something that they don't like, you'll have a hard time convincing them to accept it! When you are choosing a bounce house ensure that you ask your kids the kind of bounce they would like. Inflatables always come themed and there are many popular themes like superhero themes, animal themes, forest themes, train themes and so on. If you can't get something your kids want, at least get something that is close to their demands.
5. Material
Wear and tear is a common issue with bounce houses and it is very important that the material with which it is made is durable. Generally, inflatables are made out of either woven oxford cloth or PVC tarpaulin. Woven oxford cloth is very lightweight unlike PVC tarpaulin which is heavy and only used in commercial models. Thus, if you are going for a residential bounce house as per the recommendation, ensure you buy something that is made out of woven oxford cloth.
6. Budget
Nobody likes to cross their expected budget and order something that will drill a hole in their pocket. Whether you are buying the bounce house or renting it from a party rental service, ensure that it falls under your budget. Contact your local vendor or rental service provider and ask for their offering price before you meet them personally to finalize the deal.
7. Safety
Lastly, but most importantly, ensure that the bounce house is safety compliant and harmless to kids. Check for any damages, wear & tear beforehand and always be around your kids instead of leaving them on their own. Make them wear comfortable clothes, avoid jewelry and separate big kids from small ones.